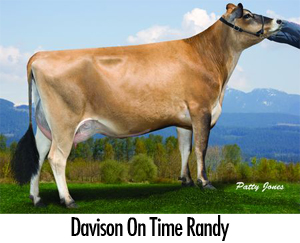 Jersey breeders talk a lot about outcross in the Jersey breed, and have incorporated bloodlines from around the world including the Danish bloodlines that now dominate the top of the JPI listing. Considering the impact of Jace, one is left wondering where to find the new outcross sires.

Semex is thrilled to release two bulls that will outcross on most of the top 100 JPI bulls available today. The first is a bull that is now ranked #1 LPI by quite a distance, 0200JE00430 Lencrest On Time and second is 0200JE00018 BW Bombardier.

On Time is a Sultan son out of the well-known Declo Belle, and elite brood cow that has already given us the impact sire 0200JE00423 Lencrest Blackstone. With On Time you will be using a sire that not only will produce the show winners, but he will also make you money at home with 815 pounds of milk after the MACE conversion, plus for both component percentages and Productive Life, proving that these cows will last.

On Time is not only the perfect mating for Jace and Danish bloodlines, but will work on the Action daughters without taking away what you love about them. Semex has been using On Time extensively as a mating sire, showing confidence and belief that he just may be the most balanced bull on the market today.

BW Bombardier is a WF Brook Bomber x BW Montana Nicole x BW Berretta Prize, the same cow family that has brought to the Jersey breed high profile, impact sires such as Country, Blaise and Carrier.

Bombardier could arguably be the best JUI bull the Jersey breed has ever had coming in at an amazing 10.47 for JUI. He sires udders that are snug in the fore udder at +2.9, wide +2.4, and high +3.3 in the rear. He also sires the deep bodies and the dairy strength that the Berretta Prize family is known to deliver. With almost 600 for milk, coupled with great health and fertility traits, Bombardier will cross well on many of the bloodlines found in the top JPI.

Another new graduate added to Semex's roster is 0200JE00946 Sunset Canyon Dice, a Jace son out of Sunset Canyon Lemvig Tonopah going back to Bettydon Lester Ritzy. Dice is a big component improver with 70 pounds of fat that does not sacrifice type at 1.8, with an impressive 2.6 on Productive Life. Dairymen everywhere can agree with these numbers, there's certainly a place for Dice in their Jersey programs.