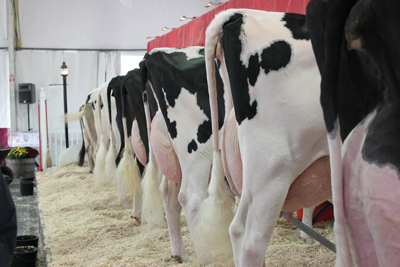 Known as the place where the dairy industry meets, World Dairy Expo (WDE) 2012 did not disappoint! This year's show shattered several records including having attendees from over 90 countries, 2,977 head of cattle exhibited and record breaking dairy cattle and gate ticket sales.
At Semex, thousands of people visited our world-famous Walk of Fame tent to see daughters of the industry s most talked about sires on display. The Semex sires with daughters on display represent some of the most profitable and in-demand Jersey and Holstein genetics available anywhere and included:
0200HO05929 GEN-I-BEQ BRAWLER (HealthSmart™ sire)
0200HO03648 DOMICOLE CHELIOS (Genomax™, Repromax™, HealthSmart and Calving Ease™ sire)
0200HO05592 CRACKHOLM FEVER (Repromax, HealthSmart, Robot Ready™ and Show Time™ sire)
0200HO05567 R-E-W SEAVER (Repromax, HealthSmart and Show Time sire)
0200HO02137 PINE-TREE SID (Repromax and Show Time sire)
0200HO03501 GILLETTE WINDBROOK (Show Time sire)
0200JE00338 SR NATHAN PRO-P (HealthSmart and Polled™ sire)
0200JE00060 BW RENEGADE (Repromax and HealthSmart sire)
"This year, more than any other, World Dairy Expo attendees saw what Genetics for Life is all about in our lineup and in our services," says Paul Krueger, Semex Alliance Director, Sales & Business Development, USA. "Semex and Genetics for Life™ is about genetic solutions, our commitment to research & development, developing long-lasting, profitable herds and lifelong partnerships Dairymen from all different sized operations saw that Semex sires, services and programs offer what they re looking for in their own herds . Long-lasting cows that are healthy, profitable and get better with each lactation."
For more ...
Read More...