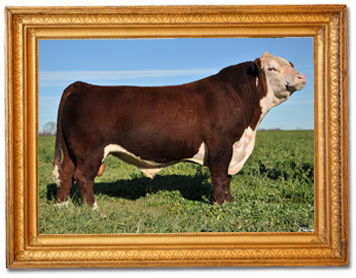 As McCoy Absolute's semen production days have come to an end, but his impact on the global Hereford market remains significant.
One of the most elite breeding bulls the breed has ever seen, Absolute is a true curve bending bull that supplied unparalleled calving ease and growth to the Hereford breed. He consistently ranked in the top 10% of the breed in North America for calving ease, birth weight, weaning weight, yearling weight and REA. He had broad appeal to both commercial and purebred cattleman across the globe and his impact can be seen in a number of the markets that he had a broad impact.
One market where he has been extremely popular and productive was the hotbed of Herefords, Uruguay. Having been sampled in 85 herds in Uruguay, he is of the top-ranked bulls in their breed database. He is the #1 ranked proven or non-proven bull in their database for calving ease while ranking in the top 1% of the entire breed for birth weight, 15 month growth, 18 month growth and mature growth as well as scrotal circumference, REA and Uruguayan Index.
Due to his age, his production had declined and his popular demand worldwide has depleted his inventory. At eight years of age, Absolute will return to natural breeding.
His impact on the global Hereford breed will be felt for years to come.