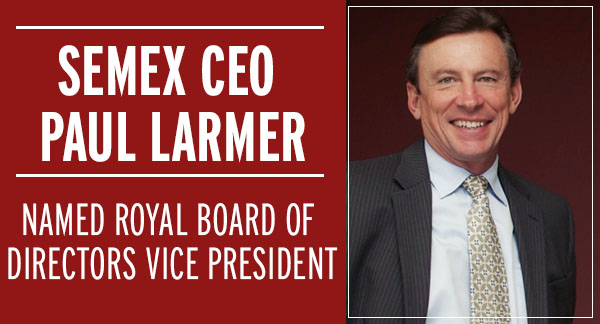 Recently the Royal Agricultural Winter Fair Association held its 91st Annual General Meeting in Toronto, Ontario. At this meeting, it was announced that the Board of Directors had elected Paul Larmer to the role of Vice President of the Royal Agricultural Winter Fair for 2013.
Since 2009, Paul has been a valued member of the Fair's Board of Directors, bringing decades of experience in the agriculture and food sector. Throughout his career, Paul has demonstrated strong leadership, management and strategic planning expertise. Paul has vast knowledge and expertise of the bovine genetics industry at a national and international level.
He has been an instrumental force in building the dairy industry in Canada. As a past General Manager of United Breeders, Paul worked closely with the Boards of Directors of United Breeders and Western Ontario Breeders to facilitate the merger and formation of Gencor in 1995 (known as EastGen today). Paul was also key in the formation of the Semex Alliance in 1997, where he currently holds the position of Chief Executive Officer, championing their growth as a global leader.
Paul is also a strong promoter of youth and has served on the Board of Trustees of the Ontario Youth Trust Fund, is a past chair of the Ontario 4-H Foundation and the OAC Alumni Association.
The Royal Agricultural Winter Fair Association is honoured that Paul Larmer has accepted this role of Vice President.