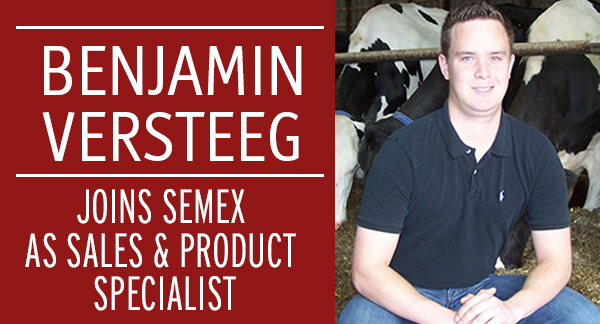 Semex is pleased to announce Benjamin Versteeg will be joining Semex as a Sales & Product Specialist effective June 24, 2013.
In this role, Benjamin will report to Jay Shannon, Global Dairy Solutions Manager, and will be providing business design support for the Semex genetic herd management tools, as well as supplying valuable sales and product support for our global semen and embryo business.
"As Semex develops and delivers more innovative solutions to dairies worldwide, our team supporting those tools is also growing," says Shannon. "We believe it is essential to have a client-focused team, developing custom-fit solutions that serve our customers' vast needs. Ben brings youth, energy and creativity to this role, and his open-minded approach will be instrumental to ensure our tools are designed with the end user, the dairyman, in mind."
Benjamin attends the University of Guelph and will graduate in December 2013 with a bachelor of arts (honours) in food, agriculture and resource economics. While at university Benjamin has been President of his OAC (Ontario Agricultural College) Class, was a member of the Canadian Agri-Marketing Association Student Team and has participated at an executive level with both the residence council and the OAC Leadership Conference.
Additionally, Benjamin has a lifetime of experience in the dairy industry, growing up on his family's Charlottetown, Prince Edward Island freestall dairy under the Red Oak prefix. On the dairy, Benjamin is actively involved in genetic and livestock marketing, as well as farm financing and planning.
Benjamin is conversational in French, and has been actively involved in the Prince Edward Island 4-H program, serving as a summer assistant and camp counselor, as well as his local Rotary Youth Parliament and the National Student Commonwealth Forum.