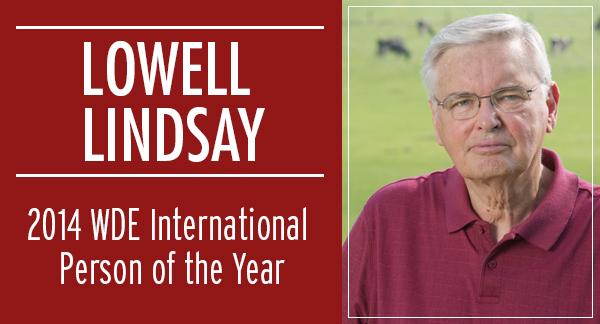 Semex is pleased to announce that Lowell Lindsay has been named World Dairy Expo's 2014 International Person of the Year.
World Dairy Expo (WDE) along with the dairy industry will honor four exemplary dairy leaders this fall at the annual Dinner with the Stars Recognition Banquet held in conjunction with the global event in Madison, Wis. "Nominated by their industry peers, these leaders were selected for their outstanding contributions to the industry", shared Scott Bentley, WDE General Manager. "Expo is truly excited to recognize them and share their life stories and impact with the dairy community."
The 2014 World Dairy Expo Recognition Award honorees are: Dairy Woman of the Year – Pam Bolin, Beaver Creek Farm, Clarksville, Iowa; Dairyman of the Year – James S. Huffard III, Huffard Dairy Farms; Duchess Dairy, Crockett, Va.; Industry Person of the Year – Dr. Curtis P. Van Tassell, USDA, Agricultural Research Service, Bovine Functional Genomics Laboratory, Beltsville, Md.; and International Person of the Year – Lowell D. Lindsay, Retired, Semex, Guelph, Ontario, Canada.
These four award recipients will be honored at a formal celebration, including a reception and banquet on Wednesday, October 1, 2014 in the Exhibition Hall at the Alliant Energy Center in Madison. Tickets for this industry gala will be available at a later date.