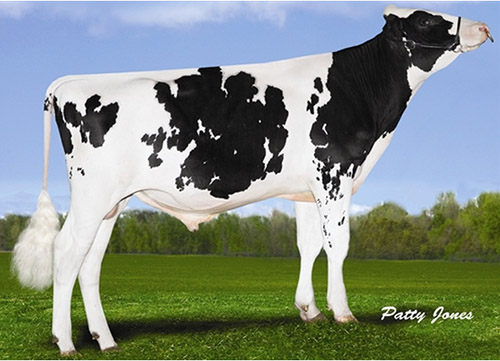 Genetics for Life is all about ensuring that our customers everywhere have the tools they need to be successful. For our clients who are seeking a non-invasive solution to dehorning, the polled gene is extremely valuable. Semex recognizes the potential of the polled gene and we're working with our customers worldwide to find the best possible polled genes for them.
New to the Semex Polled™ and Genomax™ lineups in August is the #1 homozygous polled bull available in the world, 0200HO10157 Calbrett Blueprint PP *RC. He's an impressive +2124 GTPI with a +4.6 PL, +1.10 DPR, +2.09 PTAT with a great +2.68 RUH, +2.47 RUW and 573 NM$ and is also designated a HealthSmart™ sire.
A son of the popular Earnhardt P and from the well-known PR Barbie maternal line, Blueprint's pedigree is extremely popular and valuable. His dam is VG-85-2YR Cherry Crest Colt Bambi P, a Colt P from a VG-88 Alexander, Lookout Pesce A Brava, from VG-87 2* Regancrest MB Breyell then EX-90 GMD DOM 3* Breya, a Shottle from PR Barbie herself.
"We have seen the remarkable increased interest in polled genetics over the past few years," says Brad Sayles, Vice President Global Marketing. "As the genetic merit of these sires increase so does the demand. Our clients are looking for homozygous polled sires with a high genetic value, and Blueprint is certainly one of those sires! This is his first semen available for use anywhere and we're excited about the potential it holds for our clients worldwide."
Available worldwide beginning September 1, Blueprint is priced at $150 with no minimum purchase required.
For more information on Semex, Genetics for Life, Genomax, Polled sires or any of Semex's brands visit: www.semex.com