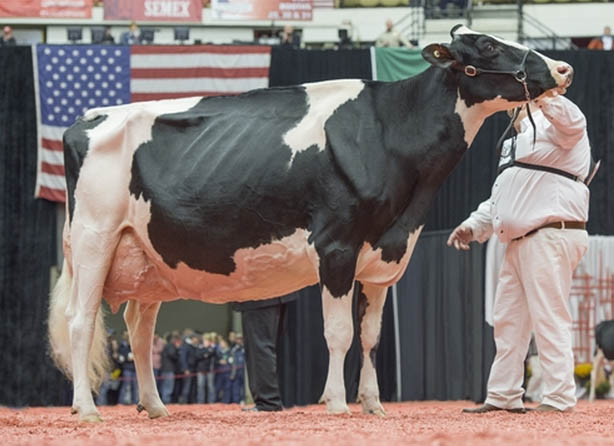 The world's undeniable 'King of the Ring,' Braedale Goldwyn, captured World Dairy Expo's Premier Holstein Sire banner for a record seventh year (dating back to 2008 when he was one of the youngest and highest ranking TPI sires to ever win the award).
With a career that strengthens as the years go by, he sired 33 daughters in the top 10 and 21 in the top of five placings in their classes. This included five class winners, and for the fourth year in a row, he sired the Grand Champion Female. Two-time World Dairy Expo Grand Champion RF Goldwyn Hailey stole the show once again, topping her Aged Cow Class and parading to champion honours. Flanking Hailey were two other Goldwyn daughters, 1st 5 Yr Old, Lovhill Godlwyn Katrysha, who was named Res. Grand Champion and Jacobs Goldwyn Valana, 2nd 5 Yr Old and Best Bred & Owned of the Show, was named Honourable Mention.
Semex's lineup of Show Time™ sires went beyond Goldwyn, with 27 different Semex sires on display, 78 daughters placing in the top 10, 10 class winners, six Best Udder in class awards and seven of the top 10 placings in the four milking classes!
Other impressive results include 10 class winners from the first to the last classes of the day by four different Semex sires:
Goldwyn (6): see above as well as: 1st Fall Heifer Calf (Stranshome Gold Annice); 1st Fall Yearling & Junior Champion (Comestar Larion Goldwyn) and 1st 4 Yr Old (Butz-Butler Gold Barbara)
0200HO03607 Allyndale-I Attic (1): 1st Sr 3 Yr Old & Intermediate Champion (Charwill Attic Marcy)
0200HO05592 Crackholm Fever (2): 1st Spring Calf (Claircrest Fever Tiki); 1st Sr 2 Yr Old (Arethusa Fever Almira)
0200HO02137 Pine-Tree Sid (1): 1st Jr 2 Yr Old (Ryan-Vu Sid Molly)
0200HO06480 Val-Bisson Doorman (1): 1st Winter Calf (Ms Duckett Dyment Carissa)

International Holstein Show:
27 different Semex sires were represented
78 daughters placed in the top 10 of their classes
43 daughters placed in the top 5 of their classes
10 class winners
6 Best Udder awards
4 Doormans were in the top 10 of the Winter Heifer Calf class
7 of the top 10 placings in the Jr 2 Yr Olds, Sr 2 Yr Olds, Sr 3 Yr Olds, 5 Yr Olds and six of the top 10 in the Aged Cow class
International Jersey Show:
Semex sired the Grand Champion (TJ Classic Minister Venus) by Select-Scott Minister who went on to be the 2014 World Dairy Expo Supreme Champion
Semex sired the Res Grand Champion (Marynole Excite Rosey) by 0200JE00136 Bridon Excitation
Select Scott Minister sired two class winners including the Grand Champion Venus, the 1st 5 Yr Old (Double Rose Minister Adele) and the 2nd Lifetime Cheese Production Cow (Pine Haven SSM Marmie)
0200JE00136 Bridon Excitation sired the Res Grand Champion Rosey, the 4th 4 Yr Old (Lorivale Excitation Kayla) and 2nd 6 Year and Older (Stoney Point Excitation Jamie)
0200JE00131 Bridon Comerica sired the 2nd 5 Yr Old Cow (Arethusa Vixens Presto)
International Ayrshire Show:
0200AY00652 Nexus Dreamer sired the 1st Summer Yearling & Res Junior Champion (Des Prairies Peugeot)
0200AY00732 Lagace Mordicus sired the 1st Winter Yearling and Junior Champion (Onword Mordicus Ali)
Margot Calimero sired the 1st Jr 3 Yr Old, Futurity Winner & Res. Senior Champion (Grand-View Calimero Dea) and 1st 100,000 lb Cow (Sharwards Calimero Megan)
Labrie Wilton sired the 1st 4 Yr Old (Onword Wilton April)
With top placings in all classes from a variety of sires offering both profitability and longevity, Semex and the code 200 sires really are Genetics for Life.
For complete show coverage and videos visit: http://www.worlddairyexpo.com