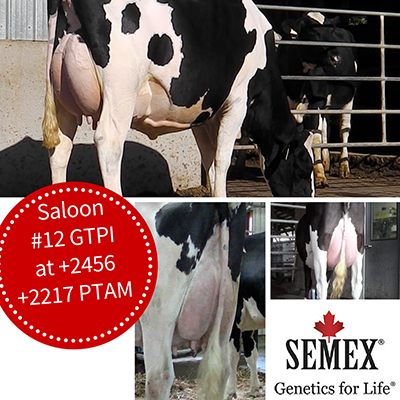 Semex's Genomax program continues to be one of the most successful genomic sire programs worldwide, delivering and graduating some of the world's most in-demand and profitable sires.
Leading the list of graduates in December is the new #12 High Ranking Sire at +2456, 0200HO02792 Sandy-Valley Saloon. A2A2™ sire Saloon brings excellent production and type traits to the table. No other sire in the top 20 can offer a complete package of +2217 PTAM, +143 combined Fat & Protein and +2.20 PTAT.
Also added was the breed's leading *RC sire, 0200HO02828 Dymentholm S Sympatico *RC, at +2371 with +1773 PTAM, great +73 lbs Fat, +4.2 PL, low 2.89 SCS and solid type. He's a Repromax™, HealthSmart™, Calving Ease™, Robot Ready™ and Red & White™ sire.
Never stronger, our Genomax lineup has over 300 active Holstein sires including 244 over +2300 GTPI, 175 over +2400 GTPI, 73 over +2500 GTPI as well as impressive averages of +550 NM$, +4.2 PL from 80 different sires and 65 maternal grandsires!
Topping this list:


0200HO10442 Sandy-Valley Afterburner: #1 Flame son at +2662 GTPI with great health traits of +5.3 PL, 2.72 SCS, 2.5 DPR, solid +2.13 PTAT. This HealthSmart and Robot Ready sire's dam is a Mogul from VG-87 Amethyst, from VG-87 1* Planet Sapphire


0200HO10397 Stantons Draftpick: Early Main Event son at +2658 GTPI, with a +5.8 PL, 2.9 DPR, 5.6 CE, solid +2.15 PTAT and +767 NM$. This HealthSmart, Robot Ready and A2A2™ sire is from a VG-85 Mogul x extremely profitable vein of the Saturday family


0200HO10314 Zahbulls Governor: High-ranking Flame son at +2656 GTPI, offers an extremely low 2.53 SCS, 4.4 DPR with +2.22 PTAT and +2.21 UDC. From the same family as 1st Class, Governor's dam is a VG-86 Supersonic then the popular Dorcy Glamour and nine more generations of VG and EX seedstock dams! He is a HealthSmart, Robot Ready and A2A2 sire


Other leading sires in the Genomax lineup include:


#1 PTAT sire 0200HO10036 OH-River-SYC Byway (Meridian x Atwood)


#1 UK Genomic PLI bull 0200HO10258 Sandy-Valley Penmanship (Enforcer x Numero Uno)


#1 UK Genomic Type sire 0200HO10506 View-Home Albania (Defender x McCutchen)