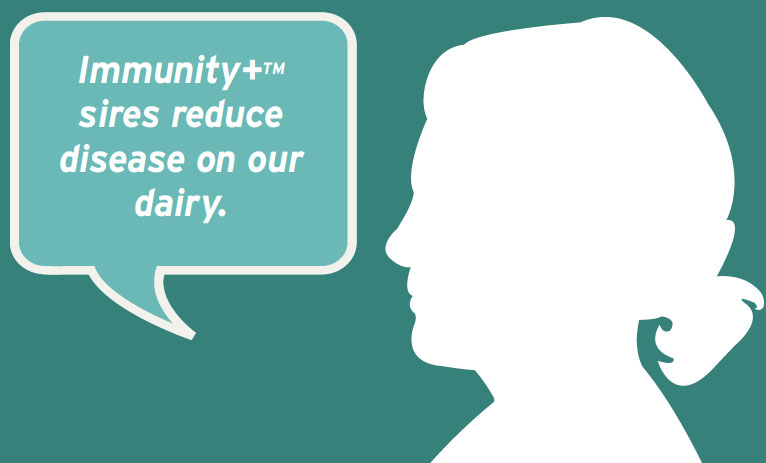 New technologies are always coming along that claim a host of benefits. Seldom, however, do such technologies deliver on or surpass their original claims. Immunity+ is a special innovation that does indeed meet or exceed original expectations. And, with a 25% heritability, Immunity+ sires can help improve a herd's overall health and longevity.
Based on the HIR technology developed by Dr. Bonnie Mallard and her colleagues at the University of Guelph, the research surrounding this technology spans decades. It shows that HIR cows have 19-30% lower disease incidence compared to herd averages. These cows also respond better to commercial vaccines and produce higher quality colostrum. As a result, they are more profitable by bringing in more revenue, lowering costs and wasting less of the dairyman's time. And, most importantly, Immunity+ works.
"There is a lot of on-going research in the immune response field, and in each case, the findings further validate the many benefits of Immunity+," says Jay Shannon, Semex Global Dairy Solutions Manager. "High immune response technology and Immunity+ sires have shown their potential to be one of the most significant innovations in the genetics industry, having a profound effect on a dairy's strategy to improve overall animal health."
Joining the proven Immunity+ lineup following the December 2014 genetic evaluation are:
0200HO07450    AMIGHETTI NUMERO UNO ... MAN-O-MAN x SHOTTLE
0200HO07443    ANDERSTUP JUTLAND

 ... 

PLANET x SHOTTLE
0200HO02712    BROOKVIEW SUPERFREAK

 ... 

SUPER x SHOTTLE
0200HO02673    HOWARD-VIEW LAUTITUDE

 ... 

MAN-O-MAN x GOLDWYN
0200HO02654    MISTY SPRINGS BRACKLEY

 ... 

MAN-O-MAN x WILDMAN
0200HO02699    MISTY SPRINGS SPEECH

 ... 

SUPER x SHOTTLE
0200HO02698    MISTY SPRINGS SUPERSONIC

 ... 

SUPER x SHOTTLE
0200HO06303    PELLERAT DVD

 ... 

MAN-O-MAN x GOLDWYN
0200HO02704    REGANCREST LERO

 ... 

SUPER x ELEGANT
0200HO02633    SANDY-VALLEY BORDEN

 ... 

PLANET x OUTSIDE
0200HO02691    STANTONS BARCODE

 ... 

MAN-O-MAN x SHOTTLE
 
0200JE00183     SUNSET CANYON DAVID

 ... 

VALENTINO x IMPULS
The following Genomax™ bulls are also designated Immunity+:
0200HO10145    BENNER JAZZNIGHT

 ... 

DOORMAN x MAN-O-MAN
0200HO06641    BLONDIN CASHBACK

 ... 

DOORMAN x PLANET
0200HO02946    BUTZ-HILL MULTIPLIER

 ... 

MOGUL x MAN-O-MAN
0200HO02984    CLAYNOOK DARNELL

 ... 

MOGUL x PLANET
0200HO02986    CLAYNOOK DICTION

 ... 

MOGUL x PLANET
0200HO07831    DG CALANDO

 ... 

MOGUL x OBSERVER
0200HO07799    GO-FARM EVOQUE

 ... 

MOGUL x SHOTTLE
0200HO10077    REGANCREST MCGARTH

 ... 

MCCUTCHEN x FREDDIE
0200HO10131    SANDY-VALLEY CABRIOL

 ... 

JACKMAN X IOTA
0200HO10155    VIEW-HOME UTAH

 ... 

DOORMAN x ROBUST
 
0200JE01001     AHLEM BURGUNDY

 ... 

VALENTINO x LEGAL
0200JE00226     JER-Z-BOYZ DASH

 ... 

DOMINICAN x MAXIMUM
0200JE00185     SUNSET CANYON MAJOR

 ... 

VIBRANT x IMPULS
For more information on Semex, Genetics for Life, Immunity+, Genomax sires or any of Semex's brands visit: www.semex.com