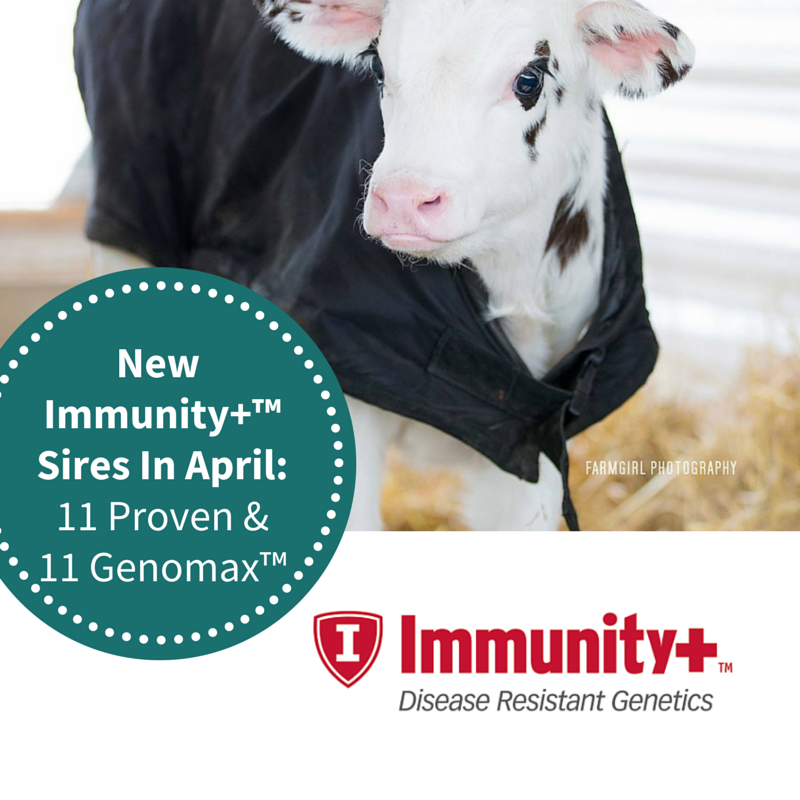 In 2013, decades of research and hard work in collaboration with the world-reknown University of Guelph in Canada resulted in the launch of Semex's Immunity+ sires worldwide.
"Some cows and cow families just do not get sick," says Semex CEO Paul Larmer. "They go virtually unnoticed in the herd, doing their job day in and day out. Worldwide, dairymen are requesting these sires because they know, just like we know, that it makes sense. And, lowering drug costs and increasing productivity through healthier calves and cows is a goal of all producers everywhere. In 2013, Dairy Herd Management recognized Immunity+ as an Innovative Product of the Year at World Dairy Expo. This was a very definite endorsement from the dairy industry that this technology is truly unique, valuable and a game changer."
High immune response technology has shown the potential to be one of the more significant innovations in the genetics industry. Producers worldwide are recognizing the value of using Immunity+ sires in their own strategy to improve their herd and animal health.
Joining the proven Immunity+ lineup following the April 2015 genetic evaluation are:

•0200HO07447 AMIGHETTI NUMERO DUE : MAN-O-MAN x SHOTTLE

•0200HO02753 BROOKVIEW MASTERPIECE : DORCY x BOLIVER

•0200HO03772 BRU-DALE SNOWDEN : DESTRY*RC x SHOTTLE

•0200HO06320 CANGEN PINKMAN : SUPER x BAXTER

•0200HO06313 COMESTAR LAUTAMARCUS : MAN-O-MAN x GOLDWYN

•0200HO06362 GEN-I-BEQ BACCHUS : SUPER x SHOTTLE

•0200HO02750 OCONNORS BEE : SUPER x SHOTTLE

•0200HO02703 REGANCREST DRESSUP-TW : BRADELL x GOLDWYN

•0200HO06289 SHEMA CARNIVAL : MAN-O-MAN x PONTIAC

•0200HO02714 SPRINGWAY CELEBRATE : MAN-O-MAN x BOLIVER

•0200HO02731 VER-HAGES TT SHOWDOWN *RC : SUPER x SEPTEMBER STORM *RC
The following new Genomax™ bulls are also designated Immunity+, several of which are also A2/A2:

•0200AY01000 D'ALBANEL CRAFTMAN : VOLVO x MARLOW



•0200HO10240 COOKIECUTTER HEBDO : JABIR x SUPERSONIC

•0200HO10181 DE-SU JIMJAM : JABIR x SHAMROCK

•0200HO10179 DE-SU SUMMIT : JABIR x PLANET

•0200HO10185 EVER-GREEN-VIEW EDIFY : DOORMAN x IOTA

•0200HO10203 LADYS-MANOR DOORSOPEN : DOORMAN x DORCY

•0200HO06676 LADYS-MANOR OCTOBERFEST : OAK x DORCY

•0200HO10233 PROGENESIS PIANIST : ENFORCER x CAMERON

•0200HO10130 SANDY-VALLEY CAREER : JACKMAN x SUPER



•0200JE00536 BUTTERCREST GLISTEN : IRWIN x DALE

•0200JE01012 BLUE MIST MEGABUCK : FRONTRUNNER x IMPULS
For more information on Semex, Genetics for Life, Immunity+, Genomax sires or any of Semex's brands visit: www.semex.com