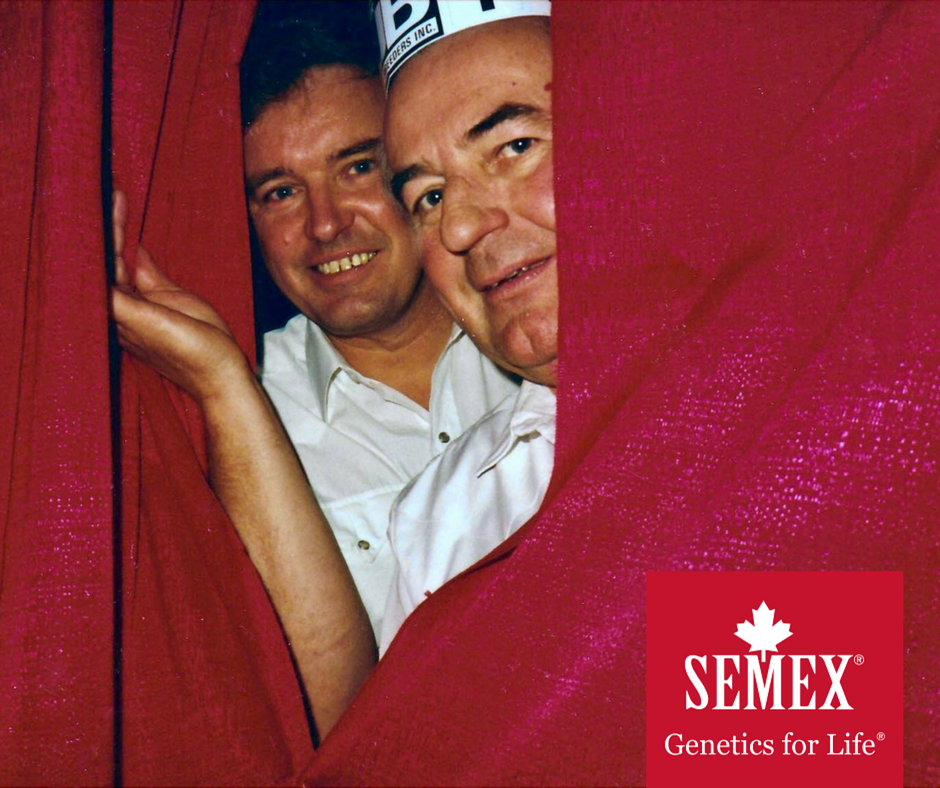 "Our hearts are heavy with the news of Bert Stewart's passing," says Paul Larmer, Semex Chief Executive Officer. "Bert was an international icon, promoting Canadian genetics everywhere dairy cattle could be found. To Canada, he was beloved by generations of dairy cattle enthusiasts. He was a consummate promoter of youth, being a coach and mentor to anyone that wanted to wear white pants or judge a show! At Semex, he was an influential mentor to many, many current and past employees, myself included. We were proud to have him be our representative on the Canadian 4-H Council and serve as their President. To say he will be missed is an understatement. Instead, we will honour him through our corporate and personal commitments to youth, in Canada and worldwide. Godspeed Bert, you have taught us well."
Pictured above is Bert Stewart (right) with Semex legend Lowell Lindsay (left) at the 1989 Royal Winter Fair.
Please find the obituary for Bertram Graham Hunter Stewart Below:
Peacefully, at the Groves Memorial Hospital In Fergus, Ontario at the age of 85, surrounded by family, Bertram G. H. Stewart, beloved husband of the late of Hazel Stewart(201 I) of Elora, formerly of Hornby, Ontario and loving father of their four children, Paul, Lynne (Jim Moore), Donna (Tom Dotson), and Kelly French & Jason French. Proud grandfather, of Kristen (Scott Greenhill) & Adam (Erin) Dotson; Brian (Kim), Brent (Laura) & David (Alex) Moore, and Connor & Blaire French. He was blessed with great-grandchildren, Caden Greenhill, Evelyn Moore, Porter Moore and Andrew Dotson.
Bertram was the seventh child of Ernie and Jennie Stewart of Better. Mourning his loss are his brothers Henry (Jean), Murray (Marnie), and his sister Dorothy (Lorne Paisley-deceased) He was predeceased by his brothers Andrew (Adele), R.J. (Betty-June), Hillard (Marguerite) and his sister lsobel (Elmer Russell). He was a loved brother-in-law to Hazel's brothers and sisters: Mary (Bob Grant-deceased), Ruth (Russell Graham-both deceased), Laura (Ed Armstrong-both deceased), Gwen (David Armstrong-both deceased), John Speirs (Helen) - both deceased and Ken Speirs deceased – (Lonna). He was also a great "Uncle Bert" to his many Stewart and Speirs nieces and nephews and their families.
Bertram has many accomplishments. He was inducted in the Agricultural Hall of Fame for Canada and into the Milton Walk of Fame as well. He has been credited with promoting Canada's world leading dairy genetics winning both the Klussendorf Trophy in the United States and was made an Honorary Lifetime Governor of the Royal Agricultural Winter Fair. He judged the Royal Winter Fair five times and judged the World Dairy Expo seven times. Bertram travelled as he consulted and judged In the Dairy Industry and other events in 17 other countries around the world. He even led 16 Royal Winter Fair grand champions.
Youth and 4-H were very important to Bertram so he not only lead for over 60 years but became the President of the Canadian 4-H Council. He also coached the Ontario 4-H Dairy Judging Team for 30 years held at the World Dairy Expo. Bertram also actively coached softball, winning seven Ontario Championships, Curling was a favourite winter pastime for Bert winning numerous awards and he became President for the Milton Curling Club. The family would like to express their gratitude to the Fergus hospital staff for their unfailing kindness and exceptional care of Bertram during these last difficult weeks. We will never forget the love and concern shown to our family as well as our wonderful Dad, Also a sincere and special thank you to the many friends and relatives that went above the call - your generosity was overwhelming.
Visitation to be held at Graham A. Giddy Funeral Home, 280 St. David Street South, Fergus on Friday, February 23rd , 2018 from 1:00 - 4:00pm & 7:00 -'9:00pm and at St. Andrew's Presbyterian Church, 325 St. George Street West, Ferguson Saturday, February 24th, 2018 from 10:00 to 10:45am, A Memorial Service will take place at the church beginning at 11:00 am.
In lieu of flowers, donations may be made to The Bertram B Hazel Stewart 4-H Dairy Education Award and Bursary C/O Ontario 4-H