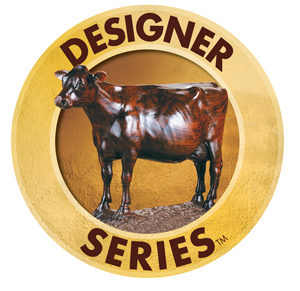 Semex is proud to introduce its Designer Series™ sires following the January 2010 genetic evaluation. Hand-selected for their ability to sire individuals with Semex's famous high-type look, these elite sires are proven to be those that transmit the head-turning look that leads to longevity and the related increased production that breeders everywhere are looking for.
No other genetic supplier can offer a deeper history and more worldwide success. The 200 stud code is well versed with this success, representing hundreds of thousands of excellent classified daughters, thousands of show champions and sale toppers, and thousands of famous, profitable pedigrees influencing herds around the world. Breeders are continuing to seek these sires that transmit the elite genetics that lead to high scoring cows, deeper maternal lines, longevity, profitability and show-winning individuals.
"When breeders look for elite genetics and high-type sires, Semex is their first source," says Brad Sayles, Semex Alliance Vice President, Global Marketing. "With the launch of this Designer Series™ lineup, we're making it even easier to choose Semex sires. You can trust that the Designer Series™ lineup is the symbol of high quality, elite high-type individuals."
These proven sires are part of Semex's Balanced Breeding philosophy, a selection process based on the careful mating of the world's most popular sires and proven cow families. Elite, high-type young sires will be available through Semex's Genomax™ program.
The Designer Series™ sires join a growing suite of solutions designed to make it even easier for producers everywhere to match their needs to Semex's lineup including: Repromax™ (high fertility sires); Genomax™ (genomic tested young sires); Health$mart™ (sires whose daughters are low-cost and trouble-free); and SEMEXX™ (gender selected semen).
Semex's Designer Series™ sires are designated with a "Designer Series™" logo and are listed below. These sires are included in ProMate™, Semex's global custom selection index.
0200HO05056 BEAUCOISE SPIKE

0200HO03205 BRAEDALE GOLDWYN

0200HO00113 CEDARWAL SPIRTE

0200HO05164 CHARPENTIER MAGOT

0072HO01758 COMESTAR LHEROS

0200HO05024 DUDOC MR BURNS *RC

0200HO03227 EK-OSEEANA ASPEN-ET

0200HO03280 GILLETTE FINAL CUT

0200HO01861 JERLAND DENISON-ET

0200HO05139 KARONA BONAIR

0200HO05379 KERNDT STALLION

0200HO05239 LA PRESENTATION DENZEL

0200HO05337 LA PRESENTATION PICOLO-RED

0200HO07030 LADINO PARK TALENT-IMP-ET*RC

0200HO07321 MAGOR BAROQUE ALLEN-ET

0200HO07317 MAGOR BOLIVIA ALLEN-ET

0200HO00379 MORSAN FRONTRUNNER

0200HO05412 OUR FAVORITE MANNING-ET

0200HO09211 PEACHEY TIMBER

0200HO01981 PETHERTON ROXOLOT

0200HO03067 PURSUIT SEPTEMBER STORM

0200HO01677 REGANCREST DOLMAN-ET

0200HO04608 REGANCREST-MR SAMUELO-ET

0200HO00393 RIETBEN TEE OFF

0200HO01990 SANDY-VALLEY BUENO-ET

0200HO05340 SICY KNOWLEDGE

0200HO09408 SIR LINERWAY LIGHTNING-ET

0070HO00969 STBVQ RUBENS *RC

0200HO01937 WEST PORT BOOKMAN-RED

0200HO03422 WINDY-KNOLL-VIEW PROMAR-ET

For more information on Designer Series™ sires or any of Semex's growing suite of programs designed to increase real dairy profitability, please visit www.semex.com