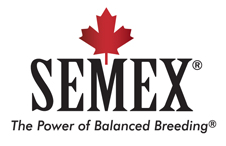 0200HO05412 Our-Favorite Manning is Semex's newest type specialist, debuting as the #1 New Release PTAT sire and the #5 PTAT Sire overall at +3.05, making him a new Semex Designer Series™ sire.
Sired by Durham, Manning is from an EX-92-2E-USA GMD DOM Emory dam with over 92,000 kgs of 3.8%F and 3.4%P. Next dam is a VG-89-5YR-USA GMD DOM Mascot who also had loads of production and then an EX-93-3E-USA Valiant and a EX-91-2E-USA with over 96,000 kgs! With a truly all-American pedigree, Manning's numbers and status as a Designer Series™ sire could not be more suited.
His daughters are big, wide, square and strong having those well-attached mammary systems. Manning's figures are +3.05 PTAT, +2.82 UDC and +1.72 FLC. His descriptive traits tell the story with +2.39 Stature, +2.52 Strength, +2.23 Body Depth, +2.46 Dairy Form. Udders are certainly his speciality, delivering a nearly perfect udder based on a +3.60 Fore Udder Attachment, +3.77 Rear Udder Width, +3.98 Rear Udder Height and a +2.68 Udder Cleft.
These figures, coupled with field comments, tell us that Manning's high type pedigree is transmitting through, making his daughters the ones that get noticed wherever they are!