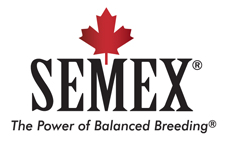 In late October 2008 Jersey Canada and the Semex Alliance joined forces to launch the new Canadian Jersey Embryo Program (CJEP). Sixteen months later, the program has proven to be exceptionally valuable and successful for Jersey breeders. CJEP has expanded embryo markets for Canadian producers and Jersey breeders into 10 countries, eager to improve their growing Jersey herds.
In just 16 months well over 220 high quality embryos, 60% of total, have been sold through this new program, with the vast majority flowing through Canada's busy export market.
Importing countries during this period have included: Australia; Austria; Brazil; Finland; South Africa; Trinidad and Tobago; the United Kingdom; Ukraine; Uruguay and the United States. These sales were led by Australia, Brazil, the United States, Finland and Uruguay in that order.
Jean-Marc Pellerin is Jersey Canada's busy National Extension Agent and is also Jersey Canada's coordinator for this program. In looking at the success the program has enjoyed, Pellerin commented that "interest in superior Canadian Jersey genetics simply keeps growing every year!"
Semex's International Embryo Sales Manager, Dann Brady, shares Pellerin's enthusiasm. "We're very pleased with our results to date. The CJEP has offered our international customers direct access to the high quality embryos Canadian Jerseys represent worldwide. Semex customers trust the Canadian Jersey breeders to deliver the best product available, which will continue to fuel the CJEP success."
CJEP's success is part of a larger, exciting story of the upswing in demand for Canadian genetics in the form of frozen embryos in both domestic and foreign markets. During 2009 Jersey Canada recorded an all-time record number of embryo ownership transfers. The 2009 total was a stunning 190% above 2008 totals, with 40% of these transfers related to the domestic Canadian scene.
The prognosis shared by Pellerin, Brady and Jersey Canada's enthusiastic leadership is that 2010 and subsequent years will be a time of great growth and market expansion. Canada has 'the goods' that are demanded worldwide and also has a full-fledged embryo marketing program that works with terrific efficiency. Over 550 embryos from 55 appealing donor cows, sired by over 35 popular sires can be found on the CJEP listings on-line at www.jerseycanada.com or www.semex.com/embryos.

Growing movement of quality embryos is part of an upward surge in Jersey activity in Canada evidenced by highest memberships since 1967 and highest registrations since 1985 and second highest since 1969 in 2009!
For more information on the CJEP or Jerseys in Canada visit www.jerseycanada.com.
For additional information on Semex's Embryo Program and Semex's growing suite of programs designed to increase real dairy profitability visit www.semex.com.