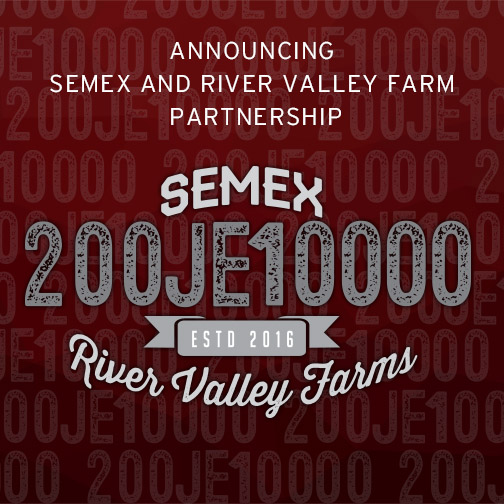 As the fastest growing AI company in the world, Semex and genetic powerhouse, River Valley Farm, are thrilled to announce an exciting new partnership and the stud code series… 0200JE10000. Semex is now home to the River Valley Farm Bull Program and it's star-studded lineup of over 25 young sires including Craze, VIP, Rockstar, Change-Up, Checkmate and Racer all available from Semex in the Fall of 2016.
Semex has been River Valley Farm's exclusive IVF embryo producer through Semex's Boviteq, making this new partnership a natural progression.
"Semex's Boviteq has been our exclusive IVF embryo provider since 2013," says David Jordan, River Valley Farm General Manager. "We've seen first-hand their commitment to technology, innovation and customer service. From Boviteq to Immunity+™ to research dollars invested to their rapid market growth, Semex was an easy choice for us when we began re-evaluating our Bull Program."
For more information on River Valley Farm visit www.rivervalleyfarm.com
This new partnership expands the Semex Jersey lineup to the fastest growing in the industry, and gives nearly immediate access to some of the Jersey breed's most in-demand young sires. River Valley Farm's maternal lines include 160 of the breed's top JPI™ females following the August genetic evaluation as well as: three US National Show Champions; three World Dairy Expo Grand Champions; a World Dairy Expo Supreme Champion; a Canadian National Champion; and many All-Americans and All-Canadians.
"Collaborating with industry-leading River Valley Farms and the entire Sauder Family is something we can not be more excited about," says Brad Sayles, Vice President Product Development & Genetic Solutions. "At Semex we believe in cultivating long-lasting partnerships, and we see this relationship really benefiting our clients globally. Available very soon will be sires that rank at the top of Jersey listings, including seven bulls over 190 JPI, 12 greater than 21 JUI, six bulls over 90 CFP, and three, ShowTime™ sires including a son of the 2014 World Dairy Expo Supreme Champion Venus!"