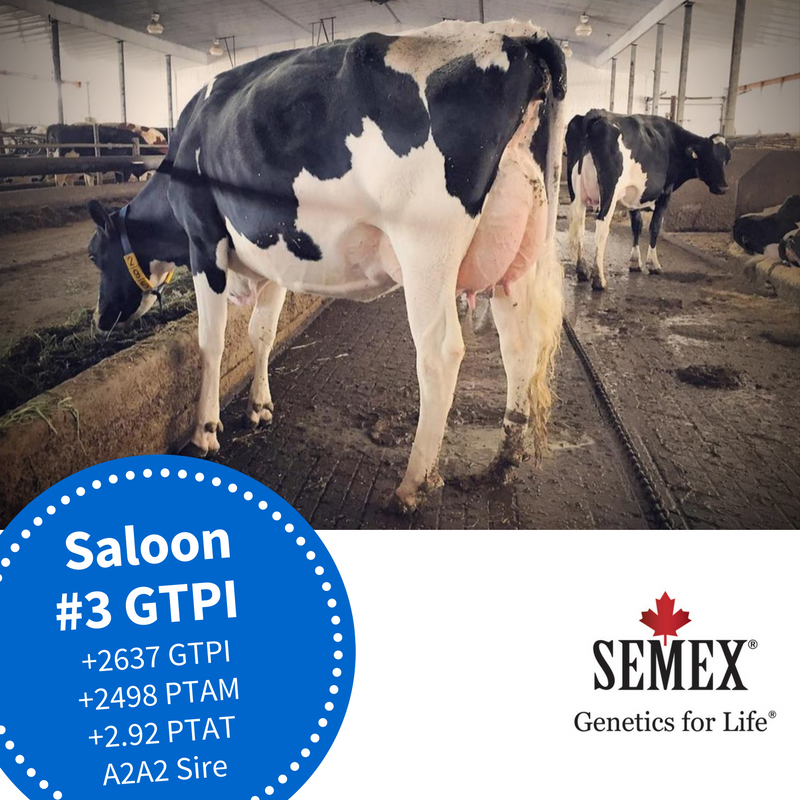 As the world's fastest growing genetic solutions company, Semex sires continued to show their prowess globally with the December 2016 genetic evaluations. Highlights include:


December 2015 graduate, 0200HO02792 Sandy-Valley Saloon continues to top the GTPI list at #3 GTPI in December 2016!  This globally popular A2A2 sire is now+2637 with +2489 PTAM, +172 CFP and the best PTAT in the top five GTPI at +2.92!


Immunity+™ sire 0200HO06528 De-Su Nominee graduates as the #12 GTPI sire at +2550 GTPI, +0.03% for Fat and Pro, with great +6.9 PL, low 2.63 SCS, a +4.6 DPR and 6.4% SCE making him a HealthSmart™, Calving Ease, A2A2 and GrazingPro™!


Semex sires occupy eight of the top 20 PTAT positions and are led by global superstar, Immunity+ and A2A2 sire 0200HO06480 Val-Bisson Doorman +3.59. Doorman is also Canada's #1 Conf Sire at +18 and is the new #2 LPI Sire at +3190! Doorman was a leading sire at both World Dairy Expo and the Royal Winter Fair, underscoring his status as a ShowTime™ sire.


Calving Ease specialist 0200HO03895 Boldi VSG Airintake graduates in December at 6.1% SCE with exceptional +2.36 PTAT, +2.78 UDC, +2.03 FLC and +4.1 PL. He also ranks as #7 LPI sire with great functional and conformation figures. Dairymen tell us they're very pleased with their daughters and that he's working well in all environments.


Beyond North America, 200HO sires continued to dominate listings:


0200HO10777 Westcoast Perseus #1 PLI at £779


0200HO10659 Stantons Applicable #1 UK Type Merit


0200HO10624 Silverrridge Allclass #2 UK Type Merit


0200HO06267 Gen-I-Beq Lavaman #1 PLI UK Proven Sire


0200HO10744 Boldi V Gymnast #1 RZG


200JE sires had a great December evaluation, with G-Code bulls excelling once again:


#3 0200JE00913 Faria Brothers Messi {5}: +282 GJPI, 779 CM$ and a HealthSmart™ sire


#11 0200JE01065 Legendairy Moneybag {5}: +264 GJPI and an Immunity+ sire


#20 0200JE01058 Sun Valley Jolt {5}: +249 GJPI and an A2A2 sire


#1 Polled: 0200JE01045 Hillview Listowel-P: +236 GJPI is the #1 Polled Herd Register status bull in the breed with semen available and he's a HealthSmart and A2A2 sire