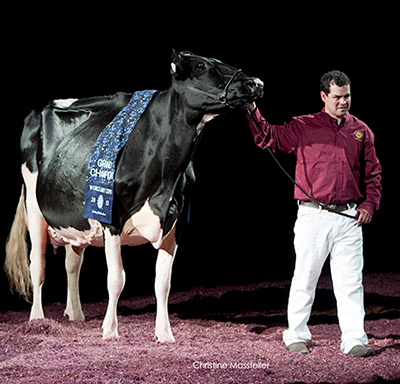 Semex's Braedale Goldwyn once again showed his prowess on the coloured shavings, siring nearly 25% of the entire show, with daughters capturing nearly every award possible.
Capturing the Premier Sire Banner for a record sixth consecutive year, (dating back to 2008 when he was one of the youngest and highest ranking TPI sires to ever win the award), Goldwyn daughters were certainly some of the most anticipated to enter the ring again this year, with many returning year after year.
With statistics nearly matching previous years, 47 Goldwyn daughters placed in the top 10 of their classes, 25 in the top five and eight placing first. Once again, for the third year in a row, a Goldwyn daughter was named Supreme Champion Female. Bonaccueil Maya Goldwyn EX-95-2E-CAN owned by Ty-D Holsteins, Drolet & Fils, Ferme Jacobs, A. & R. Boulet Inc of Cap-Sante, QC placed 1st in her Mature Cow Class, was named Champion Bred & Owned, Senior Champion, Grand Champion and later that day Supreme Champion of the entire show.
Other Goldwyn winnings include:
1st Winter Calf: Jacobs Goldwyn Lenny
1st Fall Calf: Petitclerc Gold Saltalamacchia
1st Jr 2 Yr Old: Belfast Goldwyn Lasenza
HM Inter Champ & 1st Jr 3 Yr Old: Ehrhardt Gold Beauty
Inter Champion & 1st Sr 3 Yr Old: Butz-Butler Gold Barbara
1st 4 Yr Old, Res Sr & Res Grand Champ: Cookview Goldwyn Monique
1st 5 Yr Old: Rosedale Lexington
WDE Supreme Champion, Holstein Grand & Sr Champion & 1st Aged Cow: Bonaccueil Maya Goldwyn

Aged Cow Class: Nine Goldwyns shown

Grand & Intermediate Champion of the Jr. Holstein Show, Whitaker-KK Goldie Rose
Semex's lineup of Show Time™ sires is much more than just Goldwyn, with many other stud code 200 sires rising to the top with impressive results:
International Holstein Show:
204 head or nearly 50% of the show were 200HO daughters
25 different Semex sires were represented
93 daughters placed in the top 10 of their classes
14 class winners from the first to the last classes of the day by six different Semex sires:

Goldwyn (8): see above
0200HO03607 Allyndale-I Attic (2): 1st Summer Yrlg (Quad-R Attic Malibu), 1st Sr 2 Yr Old (Charwill Attic Marcy)
0200HO05592 Crackholm Fever (1): 1st Winter Yrlg (Welsh-Edge Fever Huggable)
0200HO03501 Gillette Windbrook (1): 1st Spring Calf (Godin Bliss Windbrook)
0200HO05549 Regancrest Reginald (1): 1st Fall Yrlg and Res. Jr. Champion (Fanico Reginald Marty)
0200HO02137 Pine-Tree Sid (1): 1st Milking Yrg (Extondale Sid Iams)
International Jersey Show:
Semex sired four class winners sired by 0200JE00136 Bridon Excitation (3) and 0200JE00430 Lencrest On Time (1)
Eight Semex sires were represented with top 10 placing daughters including:

Select Scott Minister (8) including Honourable Mention Senior Champion (Pine Haven SSM Marmie)
0200JE00131 Bridon Remake Comerica (5)
0200JE00136 Bridon Excitation (5) including Intermediate and Grand Champion (Page-Crest Excitation Karlie) Senior and Reserve Grand Champion (Stoney Point Excitation Jamie) and Hon. Mention Intermediate champion (Marynole Excite Rosie)
0200JE00430 Lencrest On Time (3) including the World Dairy Expo International Jersey Futurity Winner and Overall International Futurity Champion (Arethusa On Time Vogue)
International Ayrshire Show:
Semex sired eight class winners by:

0200AY00950 Palmyra Tri-Star Reality (4) including the Junior Champion (Stein-Bush Reality Dazzle)
0200AY00580 Des Chamois Poker (1)
Bonnie Brae Ambush (1)
0200AY00696 Forever Schoon Presley (1)
Labrie Wilton (1)
With top placings in all classes from a variety of sires offering both profitability and longevity, Semex and the code 200 sires really are Genetics for Life.
For complete show coverage and videos visit: http://www.worlddairyexpo.com