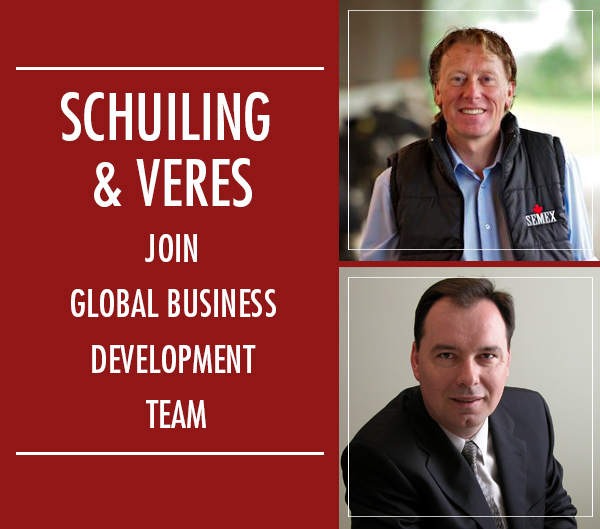 Semex is pleased to announce that Harry Schuiling and Zoltan Veres will be joining its newly expanded Global Business Development Team as Sales Managers effective early 2014.
"We truly believe that people are our most important asset," says Paul Larmer, Semex Chief Executive Officer. "And, we're very excited to have these two gentlemen be promoted within our global organization to these new positions. Both have an exceptional history with the Semex family and we're pleased that they will be joining our global management team to further our growth strategies worldwide."
Harry Schuiling has served as the Operational Manager at Semex-Holland B.V. since 1997. He has been instrumental in building and establishing this organization as a genetic leader in Holland, Belgium and Denmark, providing strategic marketing and sales programs. These programs have resulted in growth, successful partnerships and profitable joint ventures. Prior to joining Semex-Holland B.V. Harry worked for a competing genetic company as a senior manager and was a veteran classifier for the Dutch Herdbook, classifying more than 10,000 cows annually.
Zoltan Veres has been the Managing Director of Génbank-Semex Hungary Ltd. since 2002. During his tenure, Génbank-Semex Hungary has grown to be the market leader, being named the #1 Cattle Breeding Company in Hungary on the 2014 Golden List. Recently, Zoltan oversaw this facility's expansion that will allow it to accommodate 200 bulls under the Semex Gold Standard™ for collection, processing and distribution throughout the world.
Working across territories, both gentlemen will work alongside John McDougall and Gordon Miller, two of Semex's Directors International Sales & Business Development. Harry will focus on Asian and European markets, while Zoltan will work in Central and Eastern European markets.