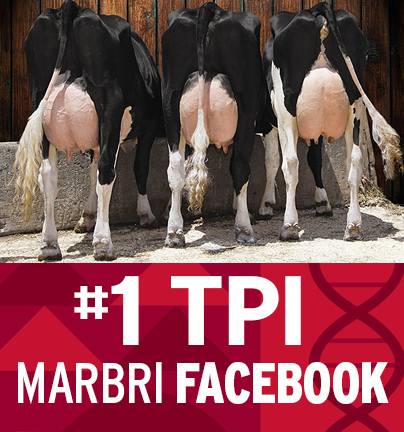 Semex's Genomax™ sires meet the industry's most rigorous genomic young standards. This results in some of the most in-demand genomic and progeny proven bulls in the world. The newest graduate of this program, 0200HO03753 Marbri Facebook, now ranks as the world's #1 TPI sire!
Facebook joined Semex's elite Genomax lineup as the #3 GTPI sire in December 2010. Identified quickly as a top sire, Semex sampled 17 sons that have now entered the Genomax program themselves. They are now some of the most highly respected and in-demand genomic sires in the breed including 0200HO02870 Mr Lookout P Enforcer and 0200HO03877 Coyne-Farms Jabir who have each been at the top of the GLPI and GTPI charts.
Now as a progeny proven sire, Facebook's international demand will only increase as his #1 TPI and #1 MACE LPI rankings combined with his Immunity+™ status make him one of the most valuable sires in the world. With impressive statistics of +2356 GTPI/+3469 MACE GLPI, +2.49 PTAT, breed-leading +172 lbs combined Fat and Protein, moderate stature and fantastic udder traits of +3.04 RUH, +2.80 RUW and +2.90 UC, Facebook and his sons are only just beginning.
"Facebook is exactly the kind of bull our clients are looking for," says Brad Sayles, Vice President, Global Marketing. "He was an extremely popular Genomax young sire who has proven himself through his milking daughters. He is truly more than a triple-threat sire, being Immunity+, a high fertility Repromax™ sire, Calving Ease™ and HealthSmart™. He's got everything our global clients are looking for to be profitable at the farm gate."
For more information on Semex, Genetics for Life, Immunity+, Genomax, Repromax, Calving Ease or HealthSmart sires visit www.semex.com