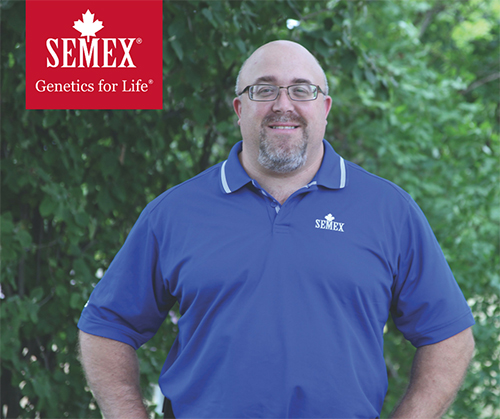 Semex is pleased to announce Michael Hurst has been appointed US Senior Sales Manager effective September 6, 2016. In this role Michael will lead our national sales team, being responsible for achieving sales and profitability targets through the development and growth of our US sales and distribution channels.
Hurst has over 20 years of business-to-business experience in the agricultural industry. After graduating from The Ohio State University with a master of science degree in animal breeding and management, Hurst worked for the American Jersey Cattle Association (AJCA) as an Assistant Manager of Jersey Marketing Service and Director of Appraisal. In this role Hurst managed seven area representatives, two office staff and five appraisers who evaluated 50,000 Jersey cows annually. During his tenure at AJCA, Hurst grew total sales, helped launch an internet auction service, streamlined data and workflows, and grew Jersey member program participation. Additionally, he coordinated and enhanced the All-American Jersey Show, assisting with the implementation of the Premier Performance Class, as well as the new show ring Exhibition Code, and was a field representative to the Mid-Atlantic states.
Hurst was also a Financial Service Officer for Farmer Credit Services of Mid-America in Springfield, Ohio. While at Farm Credit Services, Hurst's full time producer portfolio consisted of operating, IT and mortgage loans. Hurst's accomplishments include being named Rookie of the Year in 2006, as well as ranking in the top 10 year to date sales for the entire Farm Credit Services organization for 2009, and top 10 sales in 2008 after closing $31 million in new business.
In 2009 Hurst joined Semex as our North East Regional Manager. In this role he worked closely with our team, strategically growing Semex's business while developing our people and business-to-business relationships at the farm gate.
Most recently Michael was Director of Sales at River Valley Farm, playing a key role in the launch and development of the well-respected River Valley Sires.
"We're extremely excited to have Michael rejoin Semex and lead our US Sales Team," says Paul Krueger Semex Vice President USA Sales and Global Marketing. "His experience working with dairymen and additional national sales and marketing experience is extremely valuable to Semex as our team continues to increase profitability and reduce costs by delivering the industry's most innovative solutions."