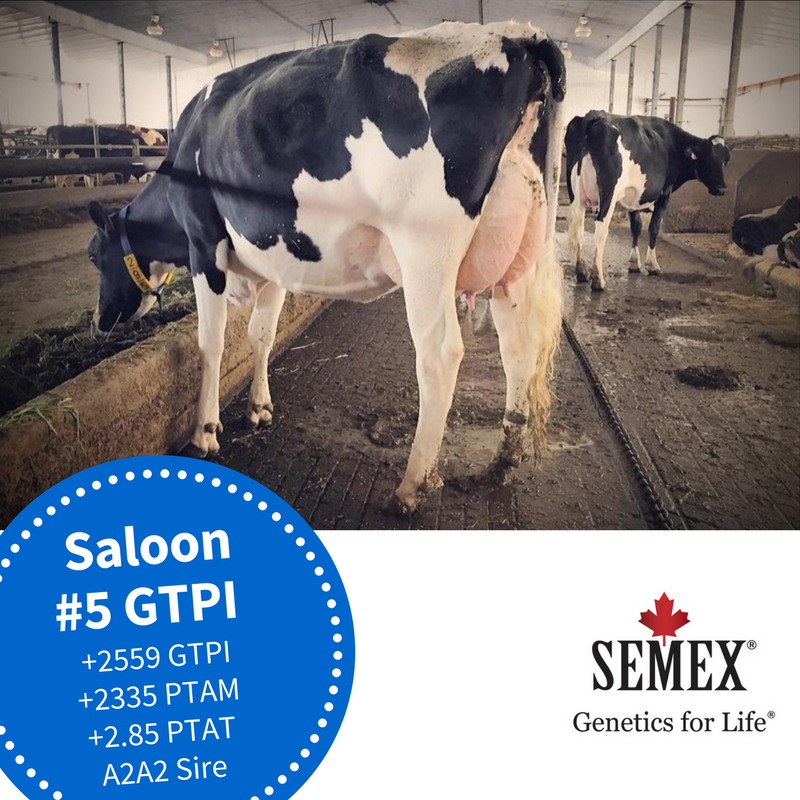 Semex continues to deliver results to our clients worldwide, year after year. The backbone of these results is our genetic development strategy. This focus continues to deliver results to all corners of the globe, and with each genetic evaluation we are more and more excited about the future of 200 code sires:
December 2015 graduate, 0200HO02792 Sandy-Valley Saloon continues to top the GTPI list at #5 GTPI in April! This globally popular A2A2 sire is now+2599 with +2335 PTAM, +169 CFP and the best PTAT in the top five GTPI at +2.85!
Semex sires occupy 10 of the top 25 PTAT positions and are led by global superstar, Immunity+ and A2A2 sire 0200HO06480 Val-Bisson Doorman +3.59. Doorman is also Canada's #2 Conf Sire at +16 and is the #3 LPI Sire at +3224!
Genomax™ sires are an undeniable force, with 12 of the top 100 GTPI sires calling 200HO home on the Official High Ranking Genomic Young Bull List. This includes the #1 GTPI sire at +2952, 0200HO10900 Progenesis Fabulous, who will be available in 2018. In Canada, Semex has four of the top five GLPI sires, including the #1 GLPI sire, Progenesis Midnight, also available in 2018.
Genomax™ sires are also topping the North American type charts, with 0200HO10805 Scientific Drive and 0200HO10882 Walnutlawn Surge tying for the #1 Conformation position in Canada at +20. In the US, these sires tie for the #5 position at +4.06, confirming their ability to transmit elite type.
The new #1 LPI sire is the highly anticipated 0200HO3910 Comestar Lautrust, graduating at +3330 LPI and carrying the coveted Immunity+™ status as well as Calving Ease™, A2A2, high fertility Repromax™ and HealthSmart™.
The new #1 Conformation proven sire in Canada is Semex's 0200HO03913 Croteau Lesperron Unix, an Immunity+™, ShowTime™ and Calving Ease sire with +17 Conf and +2.93 PTAT.
Beyond North America, 200HO sires continued to dominate UK listings:
0200HO10777 Westcoast Perseus #2 PLI at £784
0200HO10659 Stantons Applicable #1 UK Type Merit
0200HO10624 Silverrridge Allclass #2 UK Type Merit
0200HO06267 Gen-I-Beq Lavaman #2 PLI UK Proven Sire
For additional information on Semex, Genetics for Life or any of Semex's brands visit: www.semex.com