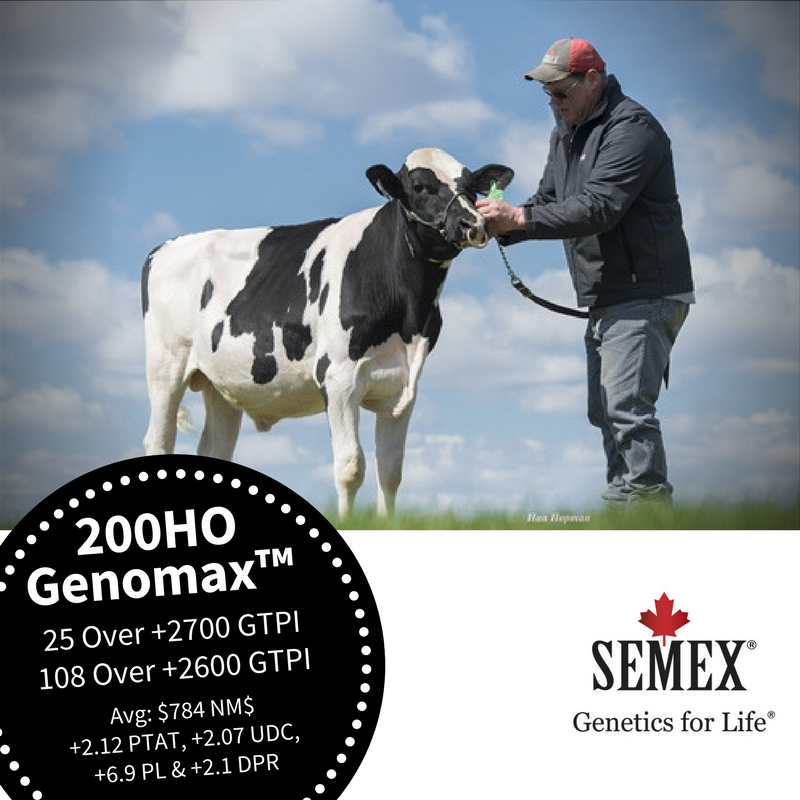 Semex's genetic development strategy is netting results for our clients worldwide. In August, we're proud to add sires to the 200 lineup that offer our global clients the genetic solutions they need to remain and become more profitable and long-lasting:
Genomax™ sires are also topping the North American charts, with 25 over +2700 GTPI and 108 over +2600 GTPI! These sires average $784 NM$, +2.12 PTAT, +2.07 UDC, +6.9 PL and +2.1 DPR. This group is led by 0200HO10619 Silverridge V Imax at +2811 GTPI with +1952 PTAM, +90 PTAF, +0.06% Fat, +6.8 PL and +2.53 PTAT.
Semex's new #1 daughter proven GTPI sire, is HealthSmart™ sire 0200HO10079 Regancrest Brigham! He's #26 on Holstein Association USA's Top 100 TPI International Bulls at +2549. Impressively, for bulls over +2500 he's #3 PTAT at +2.83, #4 UDC at +2.96 and #7 PL at +7.5.
200HO sires are at the top of the August 2017 PTAT list (with daughters) with #1 being 0200HO10036 OH-River-SYC Byway +3.75 and #2 0200HO06480 Val-Bisson Doorman at +3.67! Other chart toppers include: 0200HO10363 Stantons High Octane at +3.27 (#13); 0200HO02692 Gibbs-I Claynook Dude at +3.21 (#16); 0200HO03913 Croteau Lesperron Unix at +3.10 (#21); 0200HO02770 Sully Hart Meridian at +3.09 (#23); 0200HO02667 Duckett-BH Sennet at +3.07 (#26); and 0200HO10362 Stantons Capital Gain at +3.05 (#27)!
0200HO3910 Comestar Lautrust remains a top LPI sire at #2 +3248 LPI and is a high fertility Repromax™, HealthSmart™, Calving Ease and A2A2 sire.
0200HO03913 Croteau Lesperron Unix, an Immunity+™, ShowTime™ and Calving Ease sire remains Canada's #1 Conf sire at +18 and scores an impressive +3.10 PTAT, +3.25 UDC with a 6.4% SCE.
200JE sires dominated the GLPI list in Canada with the top 12 GLPI all calling Semex home as well as 16 of the top 20 and 25 of the top 50.
Semex's Ayrshire sires continue to dominate in Canada, holding the #1 newly proven position, the #1 GLPI for Conf, #1 GLPI and #1 GLPI Conf!
Beyond North America, 200HO sires continued to dominate:
0200HO10659 Stantons Applicable #1 UK Type Merit
0200HO10624 Silverrridge Allclass #2 UK Type Merit
0200HO06267 Gen-I-Beq Lavaman #1 PLI UK Proven Sire
0200HO06480 Val-Bisson Doorman #3 NVI in Holland
0200HO03927 Swissbec Brekem *RC #6 NVI in Holland
For additional information on Semex, Genetics for Life or any of Semex's brands visit: www.semex.com