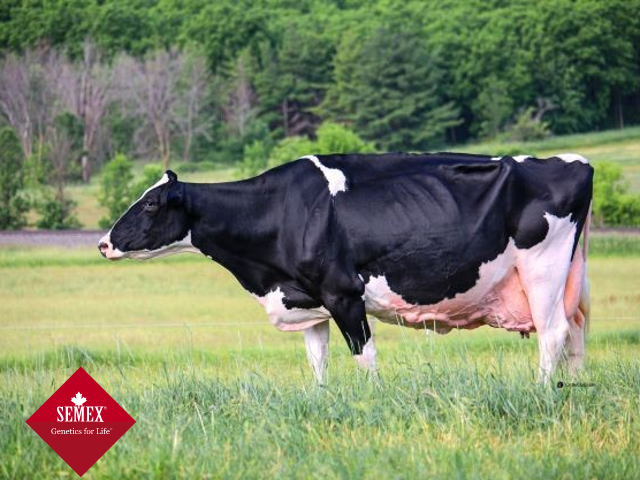 Blondin Goldwyn Subliminal-ETS, di proprietà di Budjon Farms e Peter e Lyn Vail, è stata nominata "Star of the Breed 2021"
Holstein Association USA ha introdotto questo premio Star of the Breed nel 2007, per onorare una vacca élite Holstein® che eccelle sia in produzione che per morfologia e sia ben strutturata.
Blondin Goldwyn Subliminal-ETS è l'incarnazione di questo premio, con un punteggio di EX-97 4E e un record di produzione in vita di oltre 310.000 lbs di latte.
Subliminal è stata allevata da Ferme Blondin di St. Placide, Quebec e vive presso la Budjon Farms di Lomira, Wisconsin. È una < Goldwyn x Red Marker x James > e durante la sua lattazione nell'anno che la incorona Star of the Breed, Subliminal ha prodotto 44.740 lbs di latte, 1.921 lbs (4,3%) di grasso e 1.366 lbs (3,1%) di proteine. Oltre all'estrema produzione e morfologia i suoi proprietari apprezzano anche la potenza riproduttiva e la sua longevità!
Si è candidata a questo premio grazie ai successi nella stagione 2021 negli show:
nominata prima vacca da 150.000 Lbs e campionessa al Midwest Spring National Show;
seconda vacca da 150.000 Lbs al World Dairy Expo
Questi sono solo due degli eccezionali riconoscimenti ottenuti da Subliminal nel corso degli anni.
Blondin Goldwyn Subliminal-ETS verrà premiata al 136° incontro annuale della Holstein Association USA alla National Holstein Convention (27 giugno - 1 luglio 2022) Sioux Falls, South Dakota.
Fonte: Wisconsin State Farmer