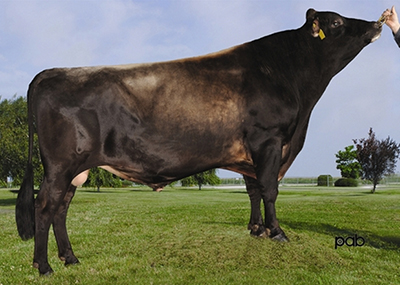 Genetics for Life is all about delivering the best possible product to our clients, and Semex's Jersey sires are no exception. The rigorous selection process used when selecting our Jersey lineup has netted impressive results with code 200JE owning four of the top 25 US GJPI Active Sires and the #1 new release sire in Canada!
Leading Semex sires was HealthSmart™ sire 0200JE00073 GR Wilsonview Maxwell at +198 GJPI. This Gannon son from the widely-respected M family at Wilsonview in Oregon delivers 66 pounds of Fat, 558 CM$, 524 NM$, 500 FM$ and impressive stats of 4.21 JUI and 4.8 for PL. He ranks 4th for Net Merit $, 5th for Cheese Merit $ and fourth for Fluid Merit Dollars on the active list.
Blackstone son 0200JE00477 Lucky Hill Joker climbed 17 points GJPI with additional daughters to land one point behind Joker at +197. From a Legion x Montana Java, Joker sires hard-working cows that give him an impressive +60 F and +50 Protein. This high fertility Repromax™ sire is also available Sexxed™.
Semex's rigorous selection process for its Genomax™ lineup has resulted in some of the most in-demand progeny proven bulls in the world. One of these elite young sires is 0200JE01007 Missiska MacKenzie (Vinnie x Merchant) is no exception, ranking as number four on the G Code list at +259 GJPI. This impressive sire ranks #1 for Cheese Merit dollars (+766) and pounds of fat (+100), #2 Net Merit dollars (+671) and #6 for Fluid Merit $ (598). He also beings profit to the table with a .26% fat and +.08% protein and a high JUI at +4.86!
In Canada, Robot Ready™ sire 0200JE00470 Comestar JDF Beautifull (Iatola x Fprize Belle x Declo Belle) graduates as the #5 GLPI sire overall, the #1 new release sire and the only double digit Conformation bull in the top 30! Beautifull daughters have all the great conformation traits you would expect, with nearly perfect-shaped udders having silky texture, great heel depth, a steep foot angle and above average stature with wide chests.
For more information on Semex, Genetics for Life, Immunity+, Genomax sires or any of Semex's brands visit: www.semex.com