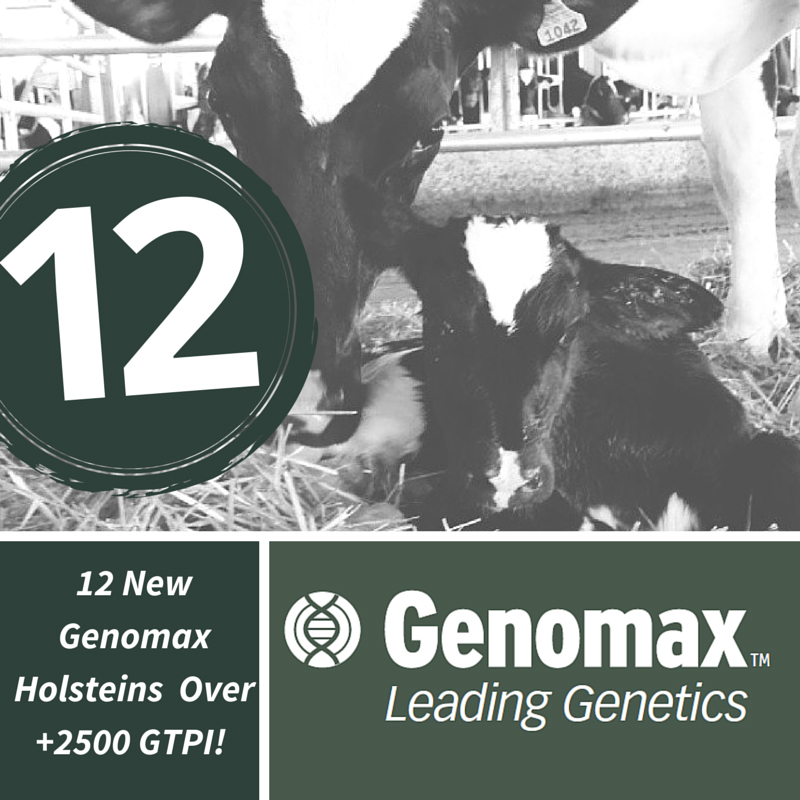 Many past Genomax stars have gone on to be among the world's most sought after proven sires. This includes 0200HO07450 Amighetti Numero Uno, now ranking #12 on Holstein USA's Top 100 TPI International list at +2407 GTPI. And, in Canada, Numero Uno gained over 250 LPI points since April, ranking him #2 for LPI and #4 for the brand new Pro$.
Graduating from the Genomax program in August is the highly-anticipated 0200HO02770 Sully Hart Meridian (Domain x Planet x Shottle) who is the best option in the Top 100 TPI International list for dairymen looking for milk and type at +1865 PTAM and +2.87 PTAT, and he ranks as #25 overall at +2333 GTPI! He's A2A2™, Calving Ease™, Repromax™ and a Show Time™ sire that is extremely popular worldwide. ‪
Thirty-nine new Holstein bulls by 22 different sires joined the Genomax lineup in August. Twenty-five of these new bulls are over +2450 GTPI, 25 over $600 NM$ and 12 over +2500 GTPI.
Topping this list are:
0200HO10376 De-Su Galapagos, the breed's #1 GTPI Deductive son from a VG-85 Mogul x Superstition then EX-92 DOM 2* Goldwyn ATM and multiple generations of VG dams. Galapagos is +2599 GTPI, $730 NM$, +2.07 PTAT, +2.15 UDC, +6.8 PL, +3.6 DPR, 2.70 SCS and he is an Immunity+, A2A2, HealthSmart and Robot Ready sire.
0200HO10446 De-Su Conspire is the breed's #1 GTPI Crabtree son from a Mogul out of VG-85 Watson who is also the dam of Balisto, Davinci and Itunes. Next dam is VG-86 DOM 1* Pine-Tree Missy Miranda, EX-92-3E GMD DOM Rudy Missy and many more VG dams. Conspire is +2571 GTPI, $739 NM$, +7.9 PL, 2.64 SCS, +3.8 DPR, 5.7% CE and is Immunity+, A2A2 and HealthSmart
0200HO10296 Progenesis Doc is an early Flame son from a Supersire out of Die-Hard from the same family as 0200HO10446 De-Su Conspire. Doc is +2569 GTPI, $748 NM$, +0.23% Fat, 90 lbs Fat, +6.1 PL, 2.60 SCS, +2.22 PTAT and a HealthSmart sire.
Other leading sires in the Genomax lineup include:
#1 PTAT sire 0200HO10036 OH-River-SYC Byway (Meridian x Atwood)
#1 UK £PLI bull 0200HO10258 Sandy-Valley Penmanship (Enforcer x Numero Uno)
#1 UK Type Merit 0200HO10363 Stantons High Octane (McCutchen x Observer)
For more information on Semex, Genetics for Life, Genomax sires or any of Semex's brands visit: www.semex.com