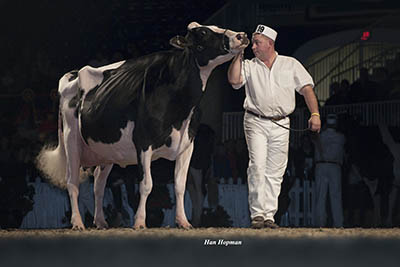 On the heels of a remarkable World Dairy Expo and an impressive show season, Semex's Show Time™ sires once again demonstrated their prowess in Toronto last week at the Royal Agricultural Winter Fair, with three breed champions competing for Supreme Champion accolades!

Impressively 200HO sires were on the top side of the pedigree in 58% of all animals shown by 24 different sires. Impressively, 93 of these placed in the top 10 of their classes, 52 were in the top five, 12 were class winners and seven captured champion titles! With a career like no other, Braedale Goldwyn continued his dominance of the National Canadian Holstein Show, capturing the Premier Sire Banner, siring 27% of the entire show as well as seven class winners. For the fourth consecutive year, a Goldwyn daughter was named Grand & Senior Champion Female as 1st place 4 Yr Old, Robrook Goldwyn Cameron, captured the blanket of roses and was named Best Udder of Show.


Other Goldwyn winnings include:




Comestar Larion Goldwyn, 1st Fall Calf & Res. Jr Champion
Cobequid Goldwyn Bayonet, 1st Winter Yearling
Belfast Goldwyn Lasenza, 1st Jr 2 Yr Old
Cookview Goldwyn Monique, 2nd 4 Yr Old & Res Grand & Res Sr Champion
Ms Goldwyn Alana, 1st 5 Yr Old & Hon. Mention Grand & Sr Champion
Calbrett Goldwyn Layla, 1st Mature Cow
Eastside Lewisdale Gold Missy, 1st Longtime Production Cow
27 Goldwyns placed in the top five of their classes
50 Goldwyns placed in the top 10 of their classes



The Royal also featured numerous Semex sires that impressed visitors from the heifer classes through the Longtime Production classes. 12 class winners demonstrated Semex's complete offering from the show's beginning to its end including:


Goldwyn (7) see above
0200HO03603 Gillette Stanleycup: 1st Winter Calf (Altona Lea Stanleycup Gretzky)
0200HO03501 Gillette Windbrook: 1st Junior Yearling (Rotaly Windbrook ... Read More...