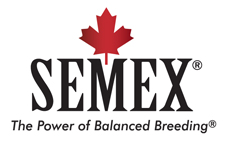 Semex regrets to announce that popular Red & White sire, 0200HO03067 Pursuit September Storm *RC recently passed away.



As one of several Maughlin Storm sons proven at Semex, September Storm *RC was unique not only in his *RC status, but also because he was a son of the popular Shower family. His dam was a VG-85-2YR-CAN 4* Astre from the EX-CAN 13* Glen Drummond Shower herself. This pedigree made him the outcross sire many Red & White breeders had been looking for worldwide, making him popular before he even received an official proof in October 2002.



September Storm *RC quickly gained popularity in the Red & White show circles and sale rings. His daughters dominated heifer and milking classes, earning several Premier Sire banners including the coveted Premier Sire Award at World Dairy Expo in 2007 and 2008. Sale topping daughters by September Storm *RC have made their mark as well, reaching record breaking prices, with Fradon SS Jordan being at the top of the list at $150,000 in 2007.



Most recently September Storm also sired several Black & White show winners including the 2008 Res. All-Canadian Jr. 2 Yr Old, ABF September Cheese VG-89-3YR-CAN, the 2008 Kingsmill Futurity Champion at World Dairy Expo, Miss Macland Sept Juliet EX-91-USA and the 2009 Grand Champion of the European Holstein Show, Planillo September Sara EX-92-ESP, showing his appeal to all bloodlines.



"Not very often do you have a Red Carrier sire that could compete with the best Black & Whites, so September Storm became popular very fast with Red & White breeders," says Pierre Laliberte, Semex Alliance Senior Vice President, Genetics and Research. "His largest contribution to the Red & Whites may be that he was used by many Black & White breeders. He will spread the red gene ... Read More...