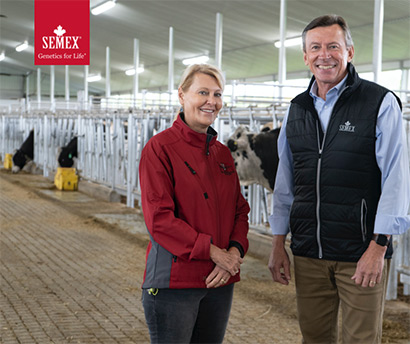 Semex is pleased to announce that Dr Bonnie Mallard, University of Guelph Professor Ontario Veterinary College, has received the Natural Sciences and Engineering Research Council of Canada (NSERC) Synergy Award and its highest prize of $200,000 towards continuing research. 

Launched in 1995 by NSERC the Synergy Award recognizes partnerships in natural sciences and engineering research and development between universities and Canadian industry. Since their inception, the Awards have honoured the most outstanding achievements of these collaborations in the natural sciences and engineering. 

"When I learned of this win, I was over the moon about this tremendous recognition of my lifetime work as a scientist and professor of immunogenetics," said Dr. Mallard, adding that the award recognizes women scientists' ability to translate science into innovation.

"The NSERC Synergy Award for Innovation is one of the highest awards this country offers for innovation, and I plan to use this platform to bring further expansion to the HIR/Immunity+® technology," she said. "There is still much exciting work left to do."

Licensed to Semex, the HIR technology has been available to clients worldwide under the Immunity+ lineup since 2012.

"The HIR technology and Immunity+ is a good example of the importance of long-term research collaborations," says Paul Larmer, Semex CEO. "Nominations are judged on partnership, effective use of resources and tangible benefits, all of which are evident with Immunity+ and HIR testing. We congratulate Dr. Mallard and we're excited to continue our work together to reduce cattle disease and its related costs through preventative genetic methods worldwide." 
... Read More...