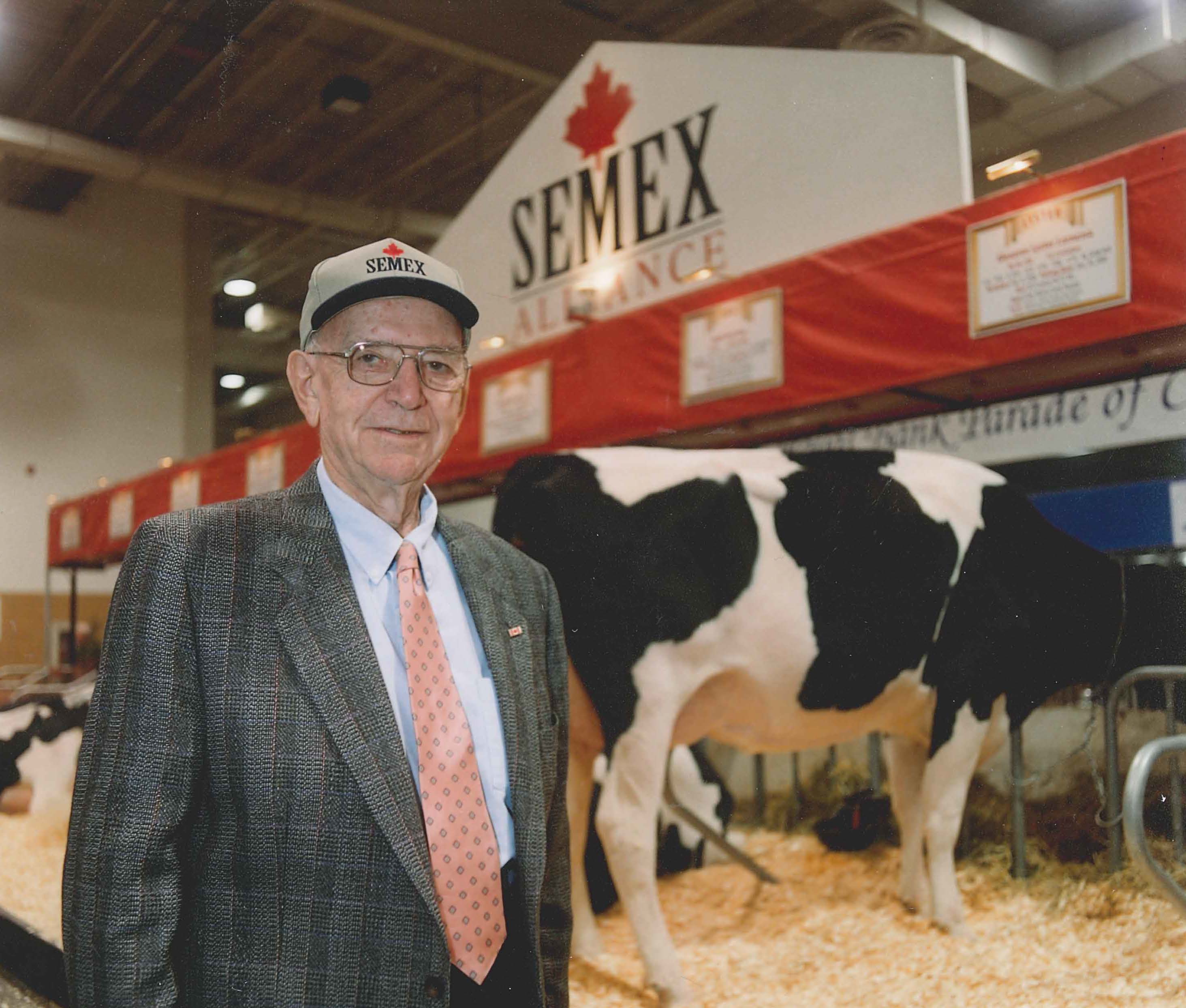 It is with heavy hearts that Semex announces the passing of one of our founding fathers, Roy G. Snyder.

Commonly referred to as the 'Father of A.I.,' Roy's life story is a testament to the modern dairy industry. Born in 1915 and raised on a dairy farm in Waterloo, Ontario, Roy's experiences with dairy cattle breeding were his life's passion and remain unmatched in our industry. Roy served A.I. in nearly every capacity possible, from technician to AI centre manager, as well as chairman of several influential associations including Chairman of the Semen Marketing Committee and Secretary-Manager of the Ontario Association of Animal Breeders.

Through this work, Roy saw the Canadian and global A.I. industry's potential. After the first export of frozen semen to be flown overseas from Canada to Germany's University of Munich was made in 1959, Roy followed up with a visit in 1964. He wanted to see these daughters for himself, and reported that their milk production far exceeded the herd average.

As frozen semen exports grew so did Roy's involvement, overseeing the doubling of exports each year as he became more involved in promotion. This work culminated in one event that would change the A.I. industry's global landscape, the formation of Semex's precursor Semex Canada. In his book, Fifty Years of Artificial Insemination in Canada 1934-1984, Roy stated, "One noteworthy day in my career was May 8, 1974, when Semex Canada became a reality."

"Roy Snyder was a pioneer, and we are all better for having his influence and vision. He is the forefather of Semex and at 99 years of age, Roy continued to take great interest in Semex's success," says Paul Larmer, Semex Chief Executive Officer. "Our work today continues to reflect his integrity and his vision for a growing global presence."
... Read More...