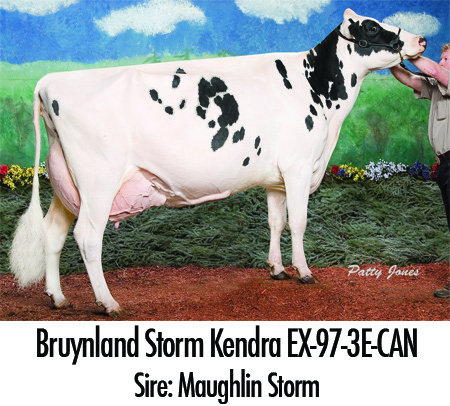 Semex's iconic Maughlin Storm continues to make headlines more than 13 years after his initial proof as his 800th daughter scored EX this week. Keriday Storm Sasha, like the 799 Storm daughters before her, has shown exceptional development, durability and strength netting her a score of EX-91-CAN in her fourth lactation.

An original Semex Master Series™ sire, this most recent accomplishment sets Storm well above all other sires in Canada, as the sire with the most EX daughters ever. By comparison, his sire Madawaska Aerostar has 53 EX daughters from 22,856 classified and his grandsire, the breed patriarch Hanoverhill Starbuck, has 418 EX daughters from his 37,960 classified.

Storm's statistics speak for themselves with 800 EX daughters of his 42,899 daughters classified, giving him an incredible 69% Good Plus or better ranking still today. Among these daughters are some of the most tremendous and high impact cows of our time. These cows have been and still are bull mothers, record milk producers, index toppers, brood cows, barn favorites and show winners. Real cows working around the world.

As a sire of sons, Storm has proven himself again and again, siring nine Semex sires including modern day Master Series™ sires 0200HO07030 Ladino Park Talent *RC, 0200HO03067 Pursuit September Storm *RC, 0200HO04624 Brigeen Givenchy and former #1 LPI sire ... Read More...