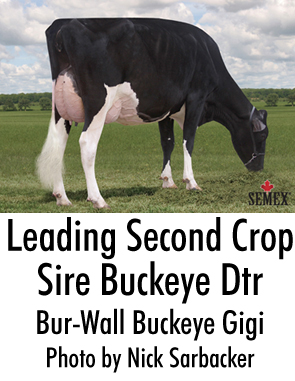 The April 2009 proof release placed the stamp of approval on reliable second crop Semex sires such as 0200HO04779 R-E-W Buckeye and 0200HO03218 Gillette Brilea FBI, while ushering in sires designed to meet the needs of dairymen everywhere. Entering the Semex lineup are sires designed to positively impact bottom lines such as 0200HO09804 Crockett-Acres Eight, sires that meet the needs of Red & White clients, and newly proven sires for those looking for the best proven sons of Semex greats Talent and Titanic.

Buckeye daughters are known for their calving ease, high production, ideal feet & legs and exceptional rear udders, making him one of the most popular BW Marshall sons available today. The April proof round echoed these same comments dairymen have been making since his release in 2005, and has solidified his place as a Second Crop Success. Buckeye's credentials put him in elite ranks for those looking to up their profitability, with +1914M, over 2.52 PTAT, +2.48 for both FLC and UDC, and +2.10 PL and a 6% Calving Ease. Showing the Power of Balanced Breeding™ and the strength of Semex's proving program in the USA, Buckeye's proof has only increased since his initial release, gaining over 140 TPI points overall and adding over 2500 daughters since January 2009.

Similar to Buckeye, FBI ticks all the boxes for most dairymen, with equivalent figures of +1908M, +2.67 PTAT, +2.05 UDC and +1.90 FLC with +463 NM$ and low 2.76 SCS. FBI also answers the quest for high fertility, scoring above average on the Sire Conception Rating (SCR) rankings and is a Semex Repromax™ sire. With over 4000 daughters in his production proof and over 2200 in his type proof, FBI can easily be considered a highly reliable sire.

Semex's 0200HO05049 Morningview Ashlar is still one of the breed's highest ... Read More...