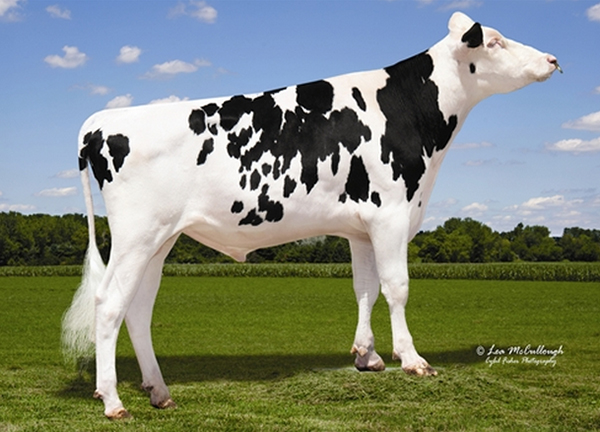 Semex leads the industry with its high-ranking GTPI Red Carrier (RC) and Red sons, having eight of the top 15 GTPI sires calling Semex and stud code 200HO home. These sires include August 2014's #1 GTPI *RC sire and Genomax™ hotshot 0200HO03949 Ladys-Manor Olympian *RC (Alchemy *RC x Dorcy).

Laced throughout the top 15 GTPI line-up is the industry's most famous Red & White cow family, the Apples. And, with the release of Genomax™ sire 0200HO10064 Mr Aderyn Andiron *RC, Semex has made the #1 GTPI Apple bull available.

Andiron *RC is the top-ranking *RC McCutchen son at +2365 GTPI, and is from a VG-85 Superstition from KHW Goldwyn Aiko EX-91 DOM 3*, a popular Goldwyn daughter from Apple's Durham sister Kamps-Hollow Altitude EX-95-2E DOM 1*. Andiron *RC's numbers are solid with a +719 NM$, 2.86 SCS, +4.7 Productive Life, solid +3.00 PTAT and positive deviations, making him an extremely popular option for Red enthusiasts.

"The Apple family has never been hotter," says Paul Krueger, Semex Director Sales and Business Development, United States. "And along with Apple's popularity has come an increased interest and demand for the very best Red genetics. We're proud of our Red Carrier and Red lineup and adding this Apple relative just strengthens what is already the industry's #1 GTPI red lineup."

Andiron *RC is available beginning October 1 in the US. For more information on Semex, Genetics for Life, Genomax, Red & White sires or any of Semex's brands visit: www.semex.com
... Read More...