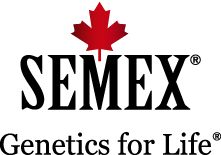 Semex is pleased to announce that Gerrit Wensink (EastGen) has been appointed as President & Chairman of the Board for 2016-2017, succeeding Norm McNaughton (EastGen). Norm will continue as Executive Member of the Board. Also assisting Gerrit is Gary Bowers (CIAQ), who has been re-elected for a second term serving as Vice President. Other members of the Board of Directors include: Robert Wright (EastGen); Warren MacIntosh (EastGen); and Art Pruim (WestGen).
 
Semex is also pleased to welcome four new members who will serve on its Board of Directors:


Jean Bissonnette (CIAQ)
Ben Brandsema (WestGen)
Jean-François Morin (CIAQ)
Jean-François Simard (CIAQ)


Semex consists of three Partner Owners: WestGen, CIAQ (Centre d'insémination artificielle du Québec) and EastGen. For more information on Semex please visit www.semex.com
... Read More...