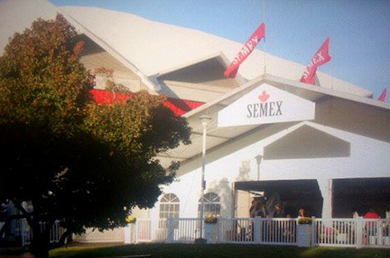 On the heels of an award-winning 2013 and with record worldwide sales since its release, Semex is proud present daughters of Immunity+™ sires at this year's World Dairy Expo (WDE) in its Semex Tent.

Using a patented technology, Semex measures an animal's immune response and their ability to combat infection and disease. These animals are considered High Immune Responders (HIR) and at Semex they're known as Immunity+ bulls.

"Dairymen are looking for long-term solutions to herd health," says Brad Sayles, Semex Vice President Global Marketing. "With Immunity+ sires, dairymen can now ask how well a bull's daughters respond to infection instead of how often they get diseases like mastitis. It changes the conversation from result-oriented measurements with heritabilities of less than 10%, to immune response that is highly heritable at 25%. We're excited to share the future of herd health with dairymen this year at World Dairy Expo."

On display will be daughters of popular Immunity+ sires including:


0200HO03753 Marbri Facebook: Immunity+, HealthSmart™, Repromax™and Calving Ease™ sire
0200HO07450 Amighetti Numero Uno: Immunity+, Genomax™ and HealthSmart sire
0200HO05567 R-E-W Seaver: Immunity+ and Show Time™ sire
0200HO00560 Monument Impression: Immunity+, Repromax, HealthSmart and Robot Ready™ sire
0200HO02698 Misty Springs Supersonic: Immunity+, Genomax, HealthSmart, Repromax and Robot Ready sire


To find out more about Immunity+ or any of Semex's suite of solutions, stop by Semex at World Dairy Expo at the Semex Tent or in the Exhibition Hall at booth #2608-2709 or by visiting www.semex.com

If you can't be with us at this year's World Dairy Expo, we encourage you to follow Semex on Facebook, Twitter, Instagram or on our YouTube Channel and search #semextent for all the latest news from Semex at the show!
... Read More...