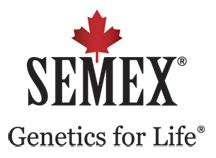 Semex is pleased to announce that Steven Larmer will join its team as Global Dairy Solutions Coordinator effective October 26.

Reporting to Jay Shannon, Director, Global Marketing & Dairy Solutions, Steven will be a key contributor to ongoing sales tools and genetic solutions development, a technical lead of our exclusive Immunity+™ technology, contribute to our global genetic education program and work closely with our Product Development and Research Teams.

Steven is no stranger to the dairy industry from his involvement in his family farm, Vintage Land and Cattle Ltd in Ontario. Following his passion in his educational studies, Steven attended the University of Guelph completing his BSc in animal biology and his MSc in animal science. As his interest in research and genetics advanced, Steven is now in the final stage of completing his PhD in Animal Science, with a focus on dairy cattle breeding and genomics.

"We are delighted to have Steven join our Semex team," said Shannon. "He is a very talented individual who combines practical farm and industry experience with an extensive knowledge in genetics and genomics. We certainly look forward to his fresh approach in leading many progressive development initiatives on behalf of Semex."

For additional information about Semex please visit www.semex.com
... Read More...